The quality of piccobello dog diapers
The materials used for piccobello dog diapers and all additional products are selected very carefully. For the products, which we develop ourselves, we use materials made in Germany and obtain them directly from the manufacturer. This enables us to ensure consistent high quality, while offering socially and ecologically acceptable products.

The basic material of our diapers, a premium viscose jersey, is produced for us by a German knitting mill for fabrics used in sports clothing and intimate apparel.
The disposable inserts, made of high-tech materials used in products for humans, are also produced in Germany especially for piccobello dog diapers.
The textiles used for our washable incontinence pad, the dog bathrobe, the cover of the dog bed and the dog drying towel are also obtained from a specialist in medicinal and technical fabrics in Southern Germany.
The mattress of the dog bed comes from a German manufacturer of 3D textiles for decubitus prophylaxis in human medicine.
Our high quality requirements for the textiles we use are what make piccobello dog diapers and their additional products so durable and long lasting with washing. We constantly monitor both of these characteristics in ongoing wash tests.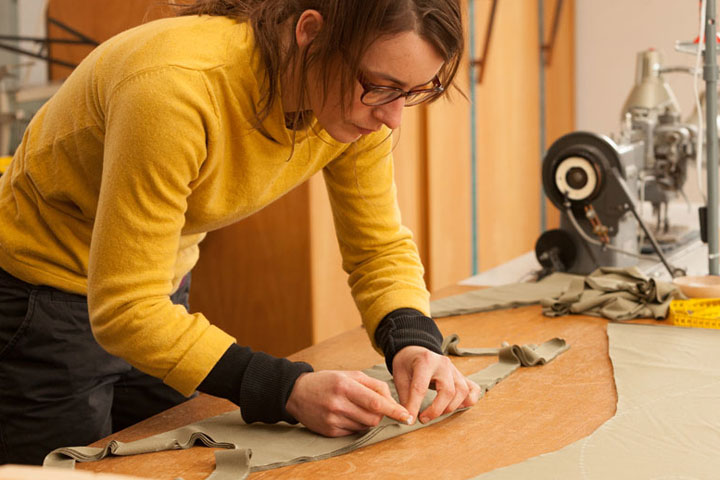 The production of piccobello dog diapers
Piccobello products are produced piece by piece in sewing studios of our region. We place great value on careful workmanship; this includes, for example, fastening the ends of seams.
The straight forward processes we use in our company allow us the flexibility to satisfy individual customer requests within a short amount of time.
The dog drying towel is sewn in Slovakia.
A small, always well-stocked warehouse of standard products enables us to deliver your order quickly..
Service at piccobello dog diapers
Service is a top priority for us! Direct, personal contact between you as the customer and us as the manufacturer provides you with the best possible service throughout the entire ordering process. Simply ask us your questions or describe your wishes via email. We will competently advise you on an inpidual basis and (almost) always find a solution.

We will dispatch your order promptly after payment, usually within 24 hours.

However, we take our time to pack the products carefully, as we want you and your dog to be delighted with your parcel from piccobello!
You can find out about how piccobello dog diapers came to life here. In our Gallery you will find dogs of many different sizes and kinds of breeds with piccobello dog diapers.